In the beginning, there was a boy. A distracted, disruptive boy — a bad boy, his teachers said. A tall, athletic boy who fought with other kids and threw books around the classroom and talked when he wasn't supposed to. A boy who stumbled over his words but moved with perfect grace on the basketball court. A boy who read voraciously — Mark Twain, Elizabeth Barrett Browning, Samuel Coleridge, Charles Dickens, Dylan Thomas, Honoré de Balzac, James Joyce — even after he dropped out of Stuyvesant High School in New York. A boy whose questing intelligence was engaged in a long and complicated conversation with the books he read, books that made him feel more real than his real life did but that were also silent about black boys like him.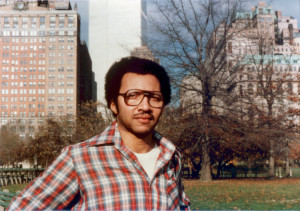 "In truth, everything in my life in 1951 that was personal and had value was white," Walter Dean Myers later wrote in his memoir "Bad Boy." It wasn't until he reached adulthood and read "Sonny's Blues," by James Baldwin, a fellow Harlemite, that he felt he had permission to offer the world a narrative with blackness at its core. By then, after a stint in the Army, he was writing seriously. In 1968, his picture-book manuscript for "Where Does the Day Go" won a contest for black writers by the Council on Interracial Books for Children. It was published the following year. Eventually he would write more than a hundred books for young people: lyrical picture books and gritty novels, poetry and short stories, history, biography, memoir, books that earned him nearly every major award children's publishing had to offer.
Literature was his one true faith, the lens through which he surveyed every aspect of the human condition. His personal mission: To create literature about the people whose stories had been left off the shelf.
"If we continue to make black children nonpersons by excluding them from books and by degrading the black experience, and if we continue to neglect white children by not exposing them to any aspect of other racial and ethnic experiences in a meaningful way, we will have a next racial crisis," he predicted in the pages of The Times in 1986.
He would write about the lack of diversity in children's literature in The Times again, in March of this year. He was responding to the depressing news that while about half of American children are a race other than white, less than 10 percent of the children's books published in 2013 were about minorities. He ended his essay with the words, "There is work to be done."
Work was something he always welcomed, though. Fiercely disciplined, he wrote a minimum of five pages a day until shortly before his death. (Once, when a child asked him what the hardest part about writing was, he said: "There are no hard parts. It's all work, and you have to put your mind and heart in it. It's work. It's all good.") There was no greater calling, he felt, than to do for others what "Sonny's Blues" had done for him.
Books had given him both an identity and a way to affect the world, his son, Christopher Myers, told me recently. "He felt that he owed books a repayment," he said. "All his books were about rendering the invisible visible."
By Dashka Slater. Reprinted from the New York Times/The Lives They Lived