May 18, 2014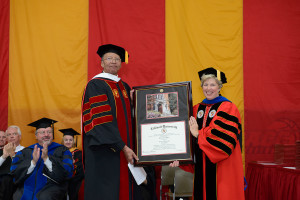 They came in as Caldwell College students and left as the first graduates with Caldwell University diplomas.  A total of 463 students were awarded undergraduate, graduate and doctoral degrees, making history as they became the inaugural class of Caldwell University alumni.
President Nancy Blattner, Ph.D. said the day is one of "great joy and pride for the faculty, staff and administration of Caldwell as we send forth our 72nd class of graduates to make a positive impact on our world."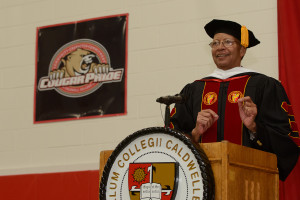 The college presented an honorary degree to Walter Dean Myers, a critically acclaimed author of literature for young people. Myers is the New York Times best-selling author of "Monster," the winner of the first Michael L. Printz Award, the 2012-13 National Ambassador for Young People's Literature, and the inaugural New York City Literary Honoree. He has more than 110 books to his credit, has received almost every major award in the field of children's literature and is considered one of the preeminent writers for young people.
Myers said that all he has ever wanted to do is write. He said he has kept what he loves close to his heart and existence and he told the graduates that they should do the same in their lives. "Find what you like to do and do it. It doesn't have to be full time. Keep the people you love close to you and don't let them get away." He encouraged them to love themselves, to love their parents and to not be too busy to make room in their hearts for those who mean the most to them. "Life is nothing more than that. Loving yourself and loving the world around you."
To read the entire announcement, click here.